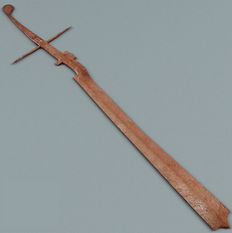 A Rust Bringer is a rusted-over sword that, instead of being weakened by its corrosion, embraces and is strengthened by it.
Description
Edit
Appearance
Edit
The Rust Bringer is basically a Rusty Sword , but even older and entirely coated in a massive layer of rust, turning the entire sword rust brown.
Effect of Use
Edit
Any metal struck with this sword may begin to Rust, weakening it and causing it to be vulnerable to further attacks.  Other than this, the Rust Bringer is a fairly average sword, with lower-than-average durability and damage output.
Alchemization and Crafting
Edit