Zelos Wilder

Personal Information
Name

Mikhælangelus Sköfridiŋölfliefsson

Title

Hot Stuff

Gender

Male

Primary Weapon
First Appearance
Battle Theme
Zelos Wilder is a player character in Attack on Lololo 4. He is a Level 4 Bold Ranger, a Title earned during Wave 6.
Backstory
Edit
Born of a demon werewolf father and vampire angel mother, Zelos Wilder was too cool for school and lived a life of rebellion and party. However his half-cyborg twin brother who is actually a genetically inferior clone (actually actually he's genetically superior) who also wears opposite colors of Zelos and uses dumb weapons like katanas overthrew their father as lord of the demon wolves and killed their mother in cold blood which really didn't sit right with Zelos. So he set off on a journey to thwart a threat of nuclear disaster in the Soviet jungle, but will he be able to embrace his destiny and become kawaii enough to avenge his parents?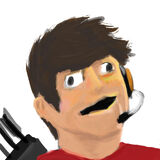 Game Statistics 
| | |
| --- | --- |
| Experience Points | 445/550 |
| F***s given | 0 |
| Criticals | 2 |
| Blunders | 2 |
Actions Within Game
Edit
To be filled in later.
Notable Points of GameEdit
To be filled in later.
According to God, prose is for losers.